Hello Everyone,
I am very happy to share with you all that I'll be speaking at
Jaipur Developer Fest 2018
. This year,
#JDF18
is happening on
28th of July, 2018 | 7:30 A.M
onwards. This is an amazing opportunity for all of the amazing salesforce enthusiasts in India to connect with our Salesforce Ohana, learn more and take some of the most valuable insights and learnings with them back to their organization. Below are the details about my session and other activities :-
Embed your JavaScript application in Salesforce using Lightning Container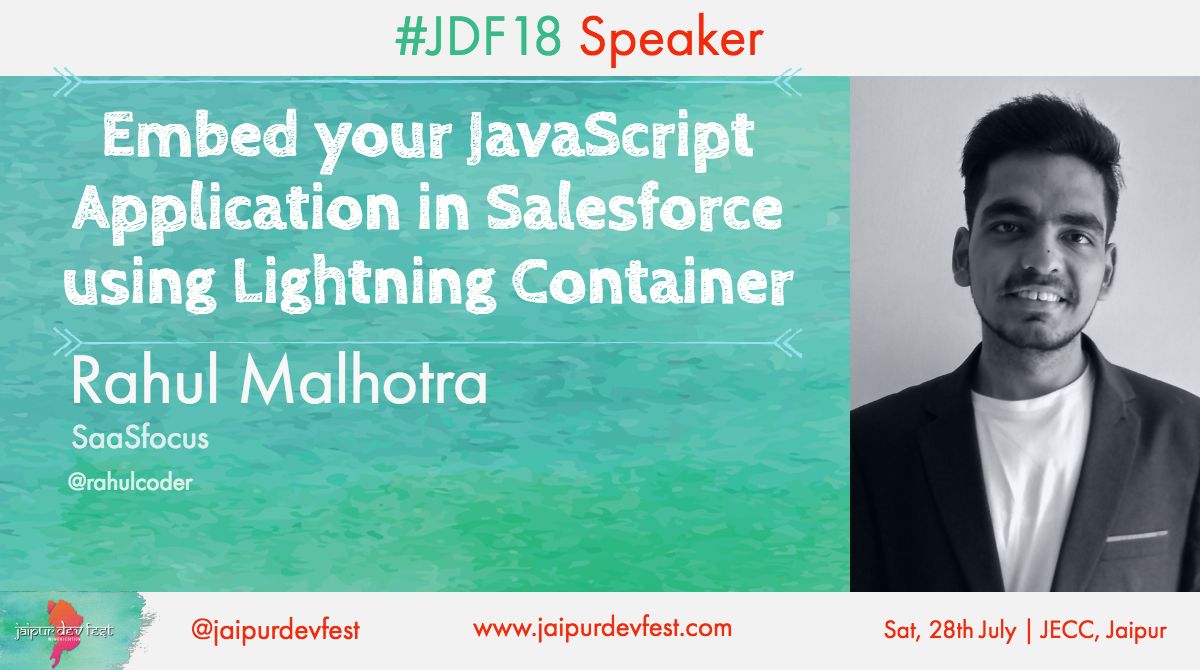 My session is scheduled from
3:30 P.M - 4:00 P.M.
and the title of the session is
"Embed your JavaScript application in salesforce using Lightning Container"
as stated above. In this session I'll mainly show you a live demo of how you can run any
JS
application built using 3rd party frameworks like:-
React
,
Angular
etc. in your custom Salesforce Lightning Component.
But Wait..!! It doesn't end here. I have one more amazing thing to share.
Circles of Success
This year, the awesome people of JDF announced a new initiative called
"Circles of Success"
. So, now the question arises that :-
What is COS ?
In simple terms, I can say that it is a round table discussion on a particular topic related to Salesforce consisting of 6-10 salesforce trailblazers like you and will consists of 1-2 Salesforce Experts. The best part is that you can come with your doubts regarding any Salesforce Topic for which the COS is scheduled and you can discuss with the expert regarding the same.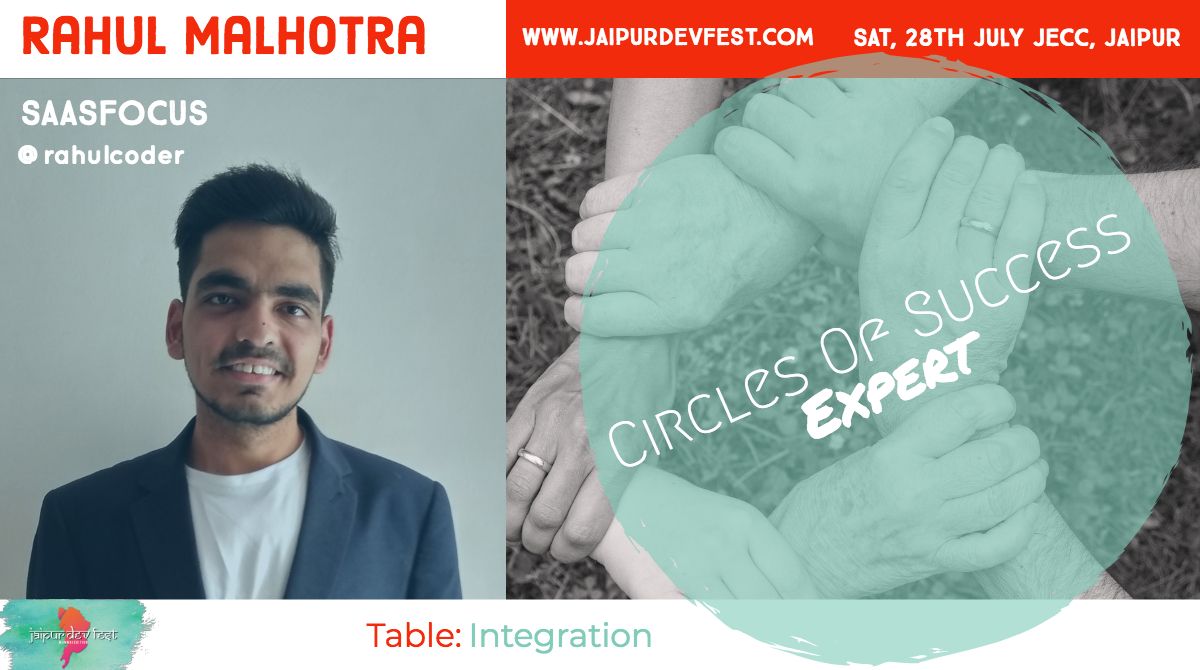 I'll be volunteering as an expert in
Integration
table. So, if you have any doubts regarding apex callouts and integration, postman or any other stuff related to same. You can come to my COS and have a one to one discussion with me. I'll put on my best efforts to help you for sure. The timings of my COS discussion is
1:00 P.M - 1:30 P.M.
For those who are outside and can't attend. My presentation and source code will be available in another blog post after the session for sure. For more information about the full agenda of JDF18
click here
.

Hope to meet you at Jaipur Developer Fest very soon.

Happy Trailblazing..!!